Arctic sea ice melting faster than expected
If the pattern continues, warming effects could reach up to 900 miles inland, melting permafrost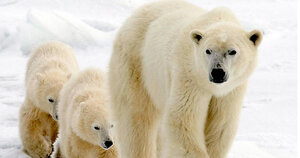 AP Photo/THE CANADIAN PRESS/Jonathan Hayward, File
Arctic Ocean sea ice – one of the most visible indicators for global warming – may be headed for another record-breaking summer decline.
If the pattern continues, new research suggests, its warming effect could reach up to 900 miles inland, melting permafrost and potentially altering weather patterns at lower latitudes.
As of June 7, preliminary data show that the vast expanse of ice at the top of the world is some 55,800 square miles smaller than it was on the same date last year, according to University of Colorado researcher Sheldon Drobot. In May, sea-ice extent was slightly large than in May 2007. But the melt rate during the month – some 3,000 square miles a day – was faster, according to the National Snow and Ice Data Center in Boulder, Colo.
The ice's seasonal shrinkage in 2007 smashed records, reaching a September minimum of 2.6 million square miles – some 23 percent smaller than the previous record, set in 2005. If it sets another record this year, it would mark the fifth season of record declines since 1998.
"The next few weeks should be quite instructive, and by mid July we ought to have a very good sense of how things are shaping up," says Dr. Drobot, who is using satellite data on ice extent to develop forecasts of seasonal changes in Arctic Ocean ice cover.
Typically, bright sea ice sends sunlight streaming back into space, keeping things relatively cool at the surface. Leftover ice at the end of the summer forms the foundation on which ice rebuilds during fall and winter. Over successive seasons, older, multi-year ice grows thicker and more resistant to a meltdown in subsequent summers than thin, single-year ice. Last year's record decline, however, left a shaky foundation. Some 63 percent of the ice is younger than average, while only 2 percent is older than average, according to Drobot.
---