On emissions, G-8 looks past Bush
Its support for halving emissions by 2050 is seen as useful for future negotiations.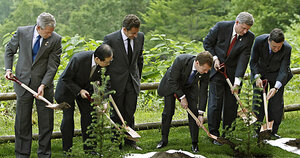 AP
In Toyako, Japan, leaders of seven of the eight largest industrial nations issued a polite sayonara to President Bush this week and a message to the rest of the world: We're likely to take a stronger, more specific joint stance on dealing with climate change next year, when a new US administration willing to take more-concerted action on the issue is in Washington.
That's the assessment of several analysts parsing the climate provisions that the Group of Eight leaders unveiled Tuesday at their annual meeting. In the end, the group's communiqué may be more important as a signal or restatement of negotiation positions within United Nations climate talks, rather than a significant blueprint for action on its own.
The group agreed "to consider and adopt ... at least a 50 percent reduction" of global greenhouse-gas emissions by 2050 via UN-sponsored talks. That put the outgoing Bush administration on record as supporting a target in more than an aspirational way. For now, however, those cuts would be measured against today's emission levels, rather than the 1990 emission levels under the 1992 UN Framework Convention on Climate Change and its 1997 Kyoto Protocol.
---