Updated: U.S. public's thirst for oil prodding Congress to act
With Bush urging new oil exploration in coastal waters, top lawmakers respond with calls to tap the Strategic Petroleum Reserve.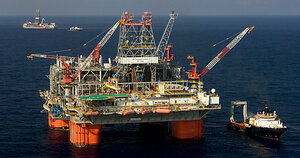 Brett Coomer/Houston Chronicle/Rapport Press/NEWSCOM
Public anger over high gasoline prices is fueling new activity along bipartisan lines on Capitol Hill, especially over the need to lift a longstanding moratorium on new offshore oil drilling.
For weeks, a nearly united Republican caucus has been riding a crest in public opinion in favor of more exploration and drilling. Their slogan: Find more. Use less.
Acutely aware of the shift in public sentiment, Democrats are moving beyond their standard talking points about Big Oil – its billions in profits, its oilmen in the White House. They are now also posing this question: Why aren't oil companies pumping from the 68 million acres of unused oil leases they already control? Their slogan: Use it or lose it.
The issue came to a sharp partisan point this week, as President Bush lifted an executive ban on offshore exploration on the outer continental shelf – and challenged Congress to lift its own ban.
"The only thing standing between the American people and these vast oil resources is action from the USCongress," he said Tuesday.
Top Democrats threw down their own gauntlets: "For eight years, he's done nothing," Senate majority leader Harry Reid said after the president's news conference. "Rather than open offshore areas for drilling, Bush should tell oil companies to drill in the 6.8 million acres they already have [leased]."
On the House side, Speaker Nancy Pelosi called on Mr. Bush to begin releasing oil from the Strategic Petroleum Reserve to bring down prices at the pump quickly. "Whether the president knows it or not, there is an emergency in our country," she said at a news conference with energy experts on Tuesday.
---