Climate groups look post-Bush
Expecting a more aggressive approach, they offer advice to the McCain and Obama campaigns.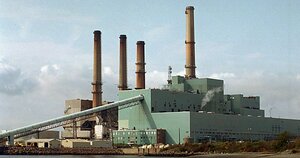 AP Photo/C.J. Gunther, File
With the inauguration of a new president in January come widespread expectations of a more aggressive federal approach to confronting global warming.
Whoever wins the White House, he will not lack for advice on the topic.
This week, a coalition of scientific societies and university organizations is slated to hand the Obama and McCain campaigns detailed steps and budget estimates for improving America's ability to monitor and forecast climate trends and severe weather. This October, the Presidential Climate Action Project (PCAP), based at the University of Colorado at Denver, is expected to offer up an exhaustive agenda for a president's first 100 and 1,000 days.
The courses for action, according to a detailed draft that PCAP released in December 2007, include those the president can take quickly through executive order, as well as those the president can take in concert with Congress.
For many, global warming is becoming an increasingly urgent issue. Last year's reports from the United Nations-sponsored Intergovernmental Panel on Climate Change (IPCC) said that if countries want to try to hold the increase in global average temperatures by the end of the century to 3.6 degrees F. above preindustrial levels, they have a 10- to 15-year window in which to act.
---