Saint John: Canada's new energy hub
The US Northeast will obtain oil, gas, and nuclear energy from projects costing $16 billion. But locals fear new initiatives will lead to pollution and negative health effects.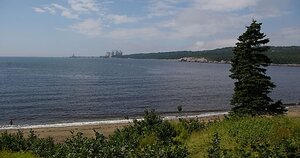 Colin woodard
Saint John, New Brunswick
Surrounded by forests and the Atlantic, Mispec Beach, on the outskirts of Saint John, seems distant from the troubles of modern life. Or at least it used to.
Some $16 billion in energy projects are proposed or underway in Greater Saint John, the largest city in this sparsely populated province of 750,000, which already produces far more electricity and liquid fuels than it consumes. The new energy projects are being built to supply the Northeast of the United States.
Beachgoers now look out on an industrial pier, construction cranes, and the massive tanks of the Canaport liquefied natural gas (LNG) terminal. A few miles up the road, Canaport's owners plan to build a new oil refinery, even though Saint John is already home to Canada's largest. Twenty miles to the east, engineers are busy refurbishing the Point Lepreau nuclear power plant, where two new reactors have been proposed.
"New Englanders may not be able to site some of these energy needs, but we can," says New Brunswick's minister of energy, Jack Keir. "Our goal is to go from being a 'have-not' to a 'have' province, so we can contribute to the [Canadian] federation rather than take from it. The energy sector can take us there."
Saint John, a blue-collar city, is willing to do what few communities in the Northeast would: build the ugly, dirty, and sometimes dangerous infrastructure that keeps the lights on across the Northeast. The local political and industrial class supports the projects, hoping to turn this principal port into an energy hub.
"It's an ice-free deepwater harbor that's within a day's sail of many key energy entry points in the US," says Tim Curry, president of the Atlantica Center for Energy, a regional industry association. "People around here make the connection between economic investments and jobs and growth."
---