Precedent-setting carbon auction Thursday
East Coast power plants will bid on CO2 permits Sept. 25.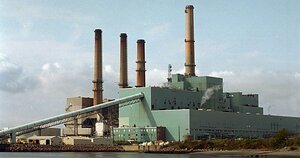 For almost as long as people have worried about global warming, economists have called for taxing carbon emissions. As long as sending CO2 skyward was cost-free, they argued, the practice would continue.
Starting Sept. 25, for the first time in US history, a price tag will begin to be placed on millions of tons of carbon dioxide spewing from every major power plant from Maine to Maryland.
Just what that price will be won't be known until after Thursday's computerized auction of about 12.5 million tons of "carbon allowances," essentially permission slips to pollute.
Utility companies will bid on the allowances. They may be used, saved, or traded so that any company with a need to send more CO2 up the stack can buy more – at the market price. The amount of CO2 to be cut over the next decade is modest – about 18 million tons annually (US power plants collectively emit about 2.8 billion tons of CO2 yearly). But the auction and process of setting a price for carbon are critical first steps, many say.
At least 15 other states in two groups – a Western and a Midwestern greenhouse-gas-reduction compact – are moving ahead with greenhouse-gas (GHG) reduction plans of their own. Congress, meanwhile, is mulling more than a half-dozen plans to cut GHGs nationwide.
So the 10 Northeast and mid-Atlantic states that make up the Regional Greenhouse Gas Initiative (RGGI) are guaranteed to get a lot of attention.
"It's the first CO2 auction and first compliance market for carbon in the US," says Emilie Mazzacurati, a senior analyst for Point Carbon, a carbon-market information company. "The RGGI states have really been pioneers. Now everyone is watching. But they've been really careful with their approach [to the auction] and I think they will get it right."
---