Step 1 in curbing mercury emissions: Find their source.
Unique 'fingerprints' of coal beds will help scientists track airborne toxin – and agree on controls.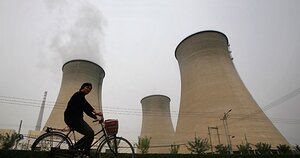 REUTERS/David Gray/FILE
Some amount of the element mercury, which scientists say is toxic to humans and animals, occurs naturally on earth's surface. Since the Industrial Revolution began in 1750, the rate at which mercury is deposited into the environment has tripled.
The government gives it third-place priority in its list of 275 hazardous substances, right after arsenic and lead. Forty-four states have one or more mercury advisories on fish. And the US Centers for Disease Control says that 5.6 percent of women of child-bearing age have mercury levels nearing those deemed dangerous by the Environmental Protection Agency (EPA).
"It's a real problem in the US," says Russ Flegal, a professor of environmental toxicology at the University of California, Santa Cruz. "And it's becoming increasingly problematic because we're continuing to add mercury to the environment."
Coal-fired power plants are the greatest single source of airborne mercury in the US. But mercury emissions from power plants remain unregulated. One reason: A debate on where this highly reactive and far-traveling metal originates has delayed what many consider long-overdue controls. One camp says mercury pollution is a global problem: Tamping down emissions in the United States won't help much if the mercury deposited here originates outside the country.
---