Environmentalists send their wish list to Obama
Twenty-eight green groups compile 359 pages of suggestions, hoping for a green revival post-Bush.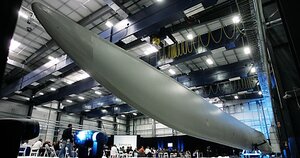 AP Photo/Jack Dempsey
The toxic lead-tainted earth that crunches under Rebecca Jim's feet when the environmental activist visits Tar Creek in northeast Oklahoma reminds her that in the United States today, the "polluter doesn't pay."
Lead and zinc mining over a century turned Tar Creek orange, poisoned residents, and made it the nation's first Superfund toxic cleanup site in 1983. But a quarter century later, the federal cleanup fund is broke and the 40-square-mile area dubbed the "worst toxic waste site in the nation" by the Environmental Protection Agency (EPA) is still a mess.
High on the Christmas wish list for Ms. Jim and other environmentalists is fixing Tar Creek by restoring the Superfund with fees on polluting companies. Such funding would also help clean up some 1,200 other languishing sites nationwide – and that's just the beginning.
An enormous environmental tally awaits the incoming Obama administration. After an eight-year pitched battle with the Bush administration, environmentalists see a golden opportunity
to begin making progress on issues ranging from climate change and water pollution to mountaintop-removal coal mining and energy efficiency in autos and buildings.
The massive environmental mountain awaiting Mr. Obama's administration is chronicled in a 359-page wish list of hundreds of problems the environmental community is eager to start addressing once President Bush leaves town.
High on the list is retightening regulations made lax in myriad ways or even gutted during the Bush years to favor industry, these greens say.
---