Drought threatens China's wheat crop
The region that produces 95 percent of the country's wheat is facing its worst drought in 50 years.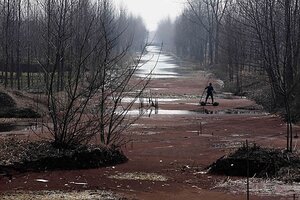 Nir Elias/REUTERS
Liu Shanni yanks a yellowed seedling from her plot of wheat, brushes the dusty soil from its withered roots, and tosses it away disdainfully.
"Dead," she spits. "If it doesn't rain soon, I'll have no harvest at all."
Nor will millions of other peasant farmers in the drought-stricken belt of northern China that normally produces 95 percent of the country's winter wheat. "Winter crops are entering a critical period," the head of China's drought-relief efforts, Er Jingping, said on Tuesday. "If it does not rain in the next 15 days, we will face an even more daunting task."
The most prolonged drought for half a century has parched fields and stunted crops in this remote village at a particularly difficult time. Many of the residents who normally migrate to the cities, and send money home, have lost their jobs as China's economic growth slows. Suddenly, the wheat harvest here in Zhaogou matters again as a question of subsistence.
Local authorities are keenly aware of the looming crisis and are digging new wells in the plains north of here in search of irrigation water. But that will not help Ms. Liu, or other farmers in the countless villages dotted around the hillsides of Henan Province, which grows one-quarter of China's wheat. "We depend on the sky to survive," she says.
That sky has offered her rain only once since she planted her wheat last August, she says: a light shower four days ago that moistened the surface of her fields.
Not just the weather
Officials blame farmers' difficulties on the weather. "There has been very little rain and unusually high temperatures this winter which have caused heavy moisture loss in the soil," Mr. Er told reporters. Three cold snaps, he added, froze irrigation channels in many places and rendered them useless.
---