Does bitter winter weather refute climate-change claims?
EarthTalk: The answer lies in the difference between 'climate' and 'weather.'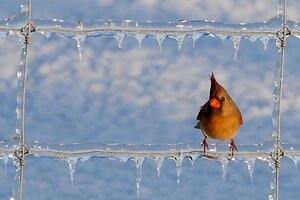 Terry Prather/The Ledger Independent/AP/FILE
Q: Don't all these huge snow and ice storms across the country mean that the globe isn't really warming? I've never seen such a winter!
– Mark Franklin, Helena, Mont.
A: On the surface, it certainly can appear that way. But just because some of us are experiencing a particularly cold and snowy winter, doesn't refute the fact that the globe is warming as we continue to pump carbon dioxide and other greenhouse gases into the atmosphere.
According to the National Aeronautics and Space Administration (NASA), the 10 warmest years on record have occurred since 1997. The National Oceanographic and Atmospheric Administration (NOAA) reports that recent decades have been the warmest since at least around AD 1000, and that the warming we've seen since the late 19th century is unprecedented over the last 1,000 years.
"You can't tell much about the climate or where it's headed by focusing on a particularly frigid day, or season, or year, even," writes Eoin O'Carroll in an online blog for The Christian Science Monitor. "It's all in the long-term trends," concurs Gavin Schmidt, a climatologist at NASA's Goddard Institute for Space Studies.
---