California's climate change bill could top $100 billion
Rising sea levels and extreme storms could displace 480,000 people and damage businesses and airports, a new study says.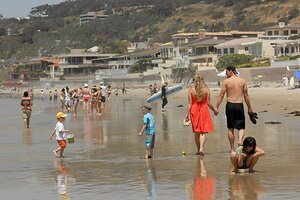 Mary Knox Merrill/the Christian Science Monitor
At least $100 billion worth of homes, businesses, power plants, ports, and airports in California could be at risk from extreme coastal storms by 2010, estimates a new assessment of California's vulnerability to rise in sea levels.
Some 480,000 people living in coastal counties could be affected, according to the study.
The report, released Wednesday, is part of a larger state effort to assess the full spectrum of risks it faces from global warming and to begin to outline adaptation strategies that planners should consider. It's the latest in a growing number of efforts nationwide to figure out what needs to be done along the heavily populated coasts to prepare for rising sea levels.
The study represents "an incredible effort to pull together an enormous amount of data," says Reinhard Flick, a research associate at the Scripps Institution of Oceanography in La Jolla, Calif., and an oceanographer with the California Department of Boating and Waterways. "It will be very useful going forward as a reference."
The new assessment comes at a time when the National Research Council in Washington has called on climate scientists in the United States to place increased focus on research to support adaptation efforts.
---