New way to farm boosts climate, too
'Organic no-till' combines best of two methods and sequesters most carbon. But can it work consistently?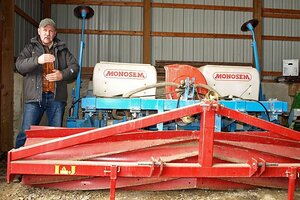 Jared Flesher
Some scientists say an ice age was prevented thousands of years ago by the dawn of human agriculture – deforestation and farming released enough greenhouse gases into the atmosphere to prevent another global cool down, the theory goes.
Now, millennia later, researchers hope new farming techniques will put some of that carbon back into the ground and help stem the rising tide of global warming.
No-till agriculture, in which farmers don't plow their fields anymore, is one practice said to promote carbon sequestration in the soil. Organic farming is another. Researchers here at the nonprofit Rodale Institute are now developing a hybrid "organic no-till" farming system that they say could sponge up more carbon than any other way of growing food.
The claim: If organic no-till agriculture were used successfully on all of the earth's 3.5 billion tillable acres, it would absorb and sequester more than half of all present-day CO2 emissions every year, according to Rodale Institute research director Paul Hepperly.
At the same time, the practice would also curb soil erosion and the dangers of chemical runoff.
"No-till organic is probably one of the best systems for helping to sequester carbon," says John Reganold, a soil scientist who has studied sustainable agriculture at Washington State University at Pullman for 25 years. "What Rodale is doing is the best of both worlds."
---