Is a bad economy good for the environment?
A recession may be a cruel remedy for environmental degradation. But some experts say the earth welcomes the breathing room.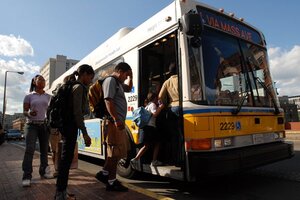 Mary Knox Merrill/The Christian Science Monitor/File
The phrase "It's not easy being green" may never seem truer than during this economic slide.
For the first time in 25 years of asking the question, the Gallup Poll recently found that a majority of Americans, 51 percent, say that economic growth should be given priority over environmental concerns.
As recently as 2000, only 23 percent of Americans wanted the economy considered first, with 70 percent saying the environment should rank higher.
That's enough to make Al Gore want to hit "delete" on his slide-show presentation on global warming.
But a number of environmentalists and economists, while concerned about changing attitudes, say the picture is far from one of total gloom. For one thing, the downturn in worldwide industrial production has meant fewer greenhouse gases are being emitted, slowing their growth in the atmosphere and, in turn, the pace of global warming.
Other pockets of good news have emerged, too. A recent report on the state of the world's forests, for example, suggests that pressure to clear stands of trees, which absorb carbon dioxide, has declined because of lower demand for wood products and for growing crops such as palm oil, soybeans, and rubber, which often displace forests.
And while low gasoline prices, as well as price-cutting by desperate car dealers, means that buying a huge SUV may be more attractive, low prices for crude also have slowed interest in projects such as extracting oil from Canadian tar sands and shale in the Rocky Mountains, projects whose potential environmental effects worry environmentalists.
By one set of calculations, for example, Europe will produce 7 percent fewer carbon emissions by 2020 than earlier thought.
---