Green Stuff: eco-news
New discoveries about reefs, pinniped evolution, and climate change.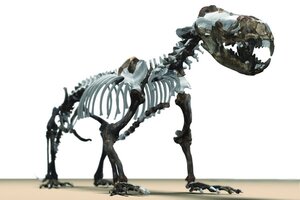 Canadian Museum of Nature/AP
Reef resilience found in no-fishing zones
A new study supports an emerging consensus among marine biologists: If a reef is off limits to fishing, it recovers from disturbances, human-caused or otherwise, more quickly than if it's fished. The study, which appears in the online journal Aquatic Conservation: Marine and Freshwater Ecosystems, identified certain "super reefs" off East Africa – a triangle between Madagascar, northern Mozambique, and southern Kenya – as especially resilient and a potential focus for conservation efforts.
When high temperatures hit in 1998, 45 percent of the region's corals died. But while fished areas remain degraded, Tanzania's reefs, which were off limits to fishing, have recovered. The study also found that reefs with more complex structures and greater variation in water temperature and currents recovered more quickly than more uniform sites. Complexity leads to resilience, the authors conclude.
---