Key points of the climate-energy bill before Congress
Lawmakers craft a bill that will move the US to a far cleaner energy policy.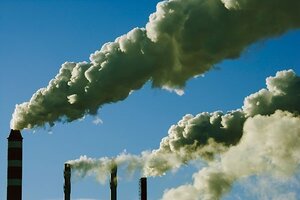 NEWSCOM
New climate-energy legislation advancing in Congress would mark the biggest shift in US energy policy in 30 years, thrusting the economy toward renewable energy and away from fossil fuels.
If the bill, which cleared a key House committee May 21, is approved by Congress, it would be the biggest step by the United States – the world's largest greenhouse-gas emitter per capita – toward curbing climate change.
If President Obama signs the bill ahead of December climate talks in Copenhagen, as some suggest is possible, it would give the US a major role in shaping a multinational response to the climate problem.
Because stemming carbon dioxide emissions from burning fossil fuels is central to the climate conundrum, the new American Clean Energy and Security Act of 2009 (ACES) approved by the House Energy and Commerce Committee addresses energy and climate in one bill. Here is a rundown of its key points:
What's the bill's aim?
The ACES bill focuses on the smokestacks that produce 85 percent of US greenhouse emissions. It follows a three-pronged path to shift the nation to a low-carbon economy by boosting energy efficiency, developing renewable energy sources like solar and wind, and curbing greenhouse-gas emissions (GHGs).
---