Warmer Alaska winters let geese skip trip south
A study found that up to 30 percent of the geese now forgo migrating to warmer regions of the Pacific coast.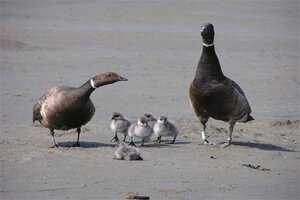 US Geological Survey/AP
A small Pacific sea goose is finding Alaska winters more to its liking, and a federal study suggests it's due to climate change.
Until recently, 90 percent of the Pacific brant population wintered in Mexico. A US Geological Survey (USGS) study found that up to 30 percent of the geese now forgo warmer regions of the Pacific coast to spend winters in snowy, icy Alaska, trading a long migration for an abundance of food formerly unavailable because it was covered with coastal sea ice.
"It's a general trend that's occurring in the northern hemisphere anyway, that birds are moving north, shifting their distributions," says lead author David Ward of the USGS Alaska Science Center. "In this case, it was a shift in winter distribution."
Brant are herbivores. The shift appears related to changes in the availability of eelgrass, which grows in shallow bays and coves and is their primary food when not breeding. Higher air and water temperatures have reduced Alaska coastal sea ice and made eelgrass accessible for more winter days.
A previous study indicated brant could spend fat reserves on migration or an Alaska winter as long as they had undisturbed access to sufficient amounts of eelgrass, Ward says. That may not have been the case a few decades ago.
---