Ken Burns on how democracy saved the best places for all
Filmmaker Ken Burns discusses his latest project: a series on the National Parks System.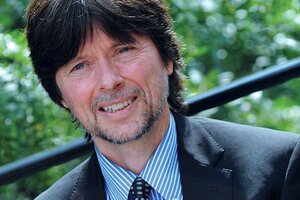 NEWSCOM
"What would we be like without the national parks?" Ken Burns calls that the "It's a Wonderful Life" question, the one raised in the classic Christmas movie. What if Americans hadn't stepped up to save their special places?
"If there were no national parks, the Grand Canyon would be lined with mansions inaccessible to us mere mortals," Mr. Burns says. "If there were no national parks, Zion and Yosemite – two of the most beautiful places on earth – would be gated communities. If there were no national parks, Yellowstone would be an amusement park. If there were no national parks, the Everglades would be drained and filled with subdivisions and tract housing."
As Americans moved westward, many saw resources to be exploited, says the documentary filmmaker, whose achievements include "The Civil War," "Baseball," and "Jazz." "We look at a river and think 'dam.' We look at a beautiful stand of trees and think 'board feet.' We look at a canyon and think what minerals can be extracted from it."
But another strain also wound through the American mind, he says, one that saw in nature "cathedrals of God's handiwork" and surmised that "we could do no better than to return to nature for some sense of touching something larger than ourselves."
---