The secret life of ancient trees
An ancient evergreen tree reveals its secret life to scientists, helping them decode climate history.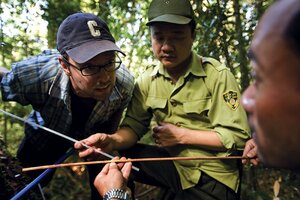 Andy Nelson
A thousand years ago, the steep slopes of Vietnam's southern highlands were cloaked by forests of towering pines and other trees. Tribesmen roamed the forests, hunting wild boar and deer under a lush canopy of laurels and oaks.
In their quest for sustenance, they moved slowly through an understory of tangled bamboo and palms. Thick layers of moss and decaying leaves muffled their footsteps as they stalked their prey.
On the forest floor, the seed of a Fokienia hodginsii tree sprouted in the moist detritus. As it grew, a chronicle of each year of its life was locked into narrow bands inside its trunk – light for the beginning of a growing season and dark marking winter.
Now, a thousand years later, Vietnamese forest specialist Le Canh Nam and American tree ring scientist Brendan Buckley are hunting in the forest. But their quarry isn't wild boar or deer. It's the tree that grew from the Fokienia hodginsii seed and has survived for a millennium, growing into an ancient giant.
Like the hunters of the past, Mr. Nam walks deliberately through prickly stands of rattan palms and over downed trees in what is now Bidoup-Nui Ba National Park near Da Lat, Vietnam.
Nam's quest began two years ago when he was asked by Dr. Buckley to find ancient Fokienia hodginsii trees from which he and a team of scientists could extract tree rings to help with climate studies.
Buckley and his colleagues have spent the past five years working with collaborators in more than a dozen countries to reconstruct information about historical monsoons from tree rings. Such data is useful for climate modelers, who want to find out how global warming might affect monsoon rainfall.
---