Global climate investment hits plateau
Global climate financing hit $349 billion in 2012, just shy of the 2011 total, according to a new report. But the pause may be just a blip on the screen.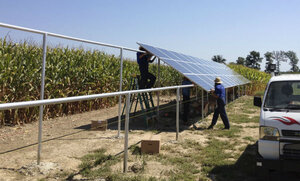 Courtesy of Austin Ridgely/AP/File
Global investment in renewable and energy-smart technologies hit a plateau in 2012, according to a new report.
The scaling back of subsidies designed to spur investment in Europe, the low price of natural gas in the United States, and a reduction in wind power spending in China have helped offset new investments elsewhere, according to the Climate Policy Initiative (CPI) report, released Tuesday. In 2012, investments in climate finance stood at $359 billion, just shy of the $364 billion investment seen in 2011.
An earlier analysis suggested an actual slowdown in clean-energy investment. A joint report from Bloomberg New Energy Finance and the Pew Charitable Trusts found that clean energy investment declined 11 percent decline in 2012 to $269 billion. (The Bloomberg data did not include research and development investment.) While Bloomberg's 2012 figure is significantly lower than 2011, it is five times that of 2004, which supports CPI's suggestion that investment appears to be leveling off following a decade of steady growth.
While the global annual averages offer an important perspective of aggregate investment, they offer little insight into regional shifts.
"We are seeing some markets start to plateau while others start to take the lead," says Johanna Lewis, an assistant professor of science, technology, and international affairs at Georgetown University in Washington. "In the solar industry, for example, you see China playing an increasingly prominent role while European countries are stabilizing and in some cases on the decline."
Global averages also hide shifts in investment. "You certainly don't see plateaus globally in solar and wind power deployment," Professor Lewis adds.
In fact, 2012 saw a record level of capacity addition around the world bringing the year-end total to 648 gigawatts, according to the Bloomberg/Pew report. China alone installed 16 GW of wind power. Solar deployment increased globally by 6 percent to more than 31 GW, the report found.
---