Water for uranium: A Faustian bargain at Wyoming ranch?
Conflict over whether to allow more uranium mining at a Wyoming ranch exemplifies tensions between the feverish drive for domestic energy and the need to protect future water resources.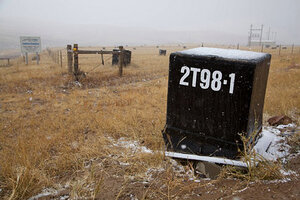 Abrahm Lustgarten/ProPublica
On a lonely stretch at the edge of the Great Plains, rolling grassland presses up against a crowning escarpment called the Pumpkin Buttes. The land appears bountiful, but it is stingy, straining to produce enough sustenance for the herds of cattle and sheep on its arid prairies.
"It's a tough way to make a living," said John Christensen, whose family has worked this private expanse, called Christensen Ranch, for more than a century.
Christensen has made ends meet by allowing prospectors to tap into minerals and oil and gas beneath his bucolic hills. But from the start, it has been a Faustian bargain.
As dry as this land may be, underground, vast reservoirs hold billions of gallons of water suitable for drinking, according to the U.S. Environmental Protection Agency. Yet every day injection wells pump more than 200,000 gallons of toxic and radioactive waste from uranium mining into Christensen's aquifers.
What is happening in this remote corner of Wyoming affects few people other than Christensen – at least for now.
But a roiling conflict between state and federal regulators over whether to allow more mining at Christensen Ranch – and the damage that comes with it – has pitted the feverish drive for domestic energy against the need to protect water resources for the future. The outcome could have far-reaching implications, setting a precedent for similar battles sparked by the resurgence of uranium mining in Texas, South Dakota, New Mexico and elsewhere.
Twenty-five years ago, the EPA and Wyoming officials agreed that polluting the water beneath Christensen Ranch was an acceptable price for producing energy there.
The Safe Drinking Water Act forbids injecting industrial waste into or above drinking water aquifers, but the EPA issued what are called aquifer exemptions that gave mine operators at the ranch permission to ignore the law. Over the last three decades, the agency has issued more than 1,500 such exemptions nationwide, allowing energy and mining companies to pollute portions of at least 100 drinking water aquifers.
---