BP oil spill: Oil giant challenges Gulf payments
BP oil spill settlement payments are being aggressively contested by London-based BP. The company may seek to recover what BP calls 'overpayments' that businesses received from the court-supervised settlement program for the BP oil spill in the Gulf of Mexico.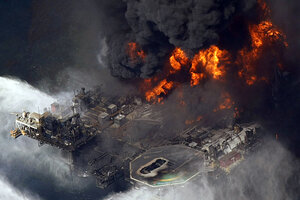 Gerald Herbert/AP/File
With an ad blitz and a tersely worded letter, BP is mounting an increasingly aggressive campaign to challenge what could be billions of dollars in settlement payouts to businesses following its 2010 oil spill in the Gulf of Mexico.
In letters that started going out Tuesday, BP warns lawyers for many Gulf Coast businesses that it may seek to recover at least some of their clients' shares of the multibillion-dollar settlement if it successfully appeals a key ruling in the legal wrangling spawned by the nation's worst offshore oil spill.
The London-based oil giant says it is sending hundreds of the letters to attorneys for businesses the company believes received excessive payments from the court-supervised settlement program.
"BP reserves whatever rights it may have to pursue any legal method to recover such overpayments," company attorney Daniel Cantor wrote in the letter.
James Roy and Stephen Herman, two of the lead plaintiffs' lawyers who helped broker the deal with BP, warned Cantor that his letter "misstates the law and violates BP's obligations under the Settlement Agreement."
"No process exists to alter the amount of an award after it has been paid," they wrote in a letter dated Monday. "It is obvious that the timing and tone of your letter is an attempt to discourage claimants from pursuing claims under the Settlement Program."
Meanwhile, BP also was placing a full-page advertisement in three of the nation's largest newspapers Wednesday that accuses "trial lawyers and some politicians" of encouraging businesses to submit thousands of claims for inflated or non-existent losses.
"Whatever you think about BP, we can all agree that it's wrong for anyone to take money they don't deserve," says the ad, which was scheduled to appear in The New York Times, Wall Street Journal and Washington Post. "And it's unfair to everyone in the Gulf — commercial fishermen, restaurant and hotel owners, and all the other hard-working people who've filed legitimate claims for real losses."
---