Peach State no more? Blueberries lead Georgia's fruit crops.
Peach State may actually be the Blueberry State. Georgia is famous as a major producer of the peach but the so-called Peach State actually makes more money from another fruit crop: the blueberry.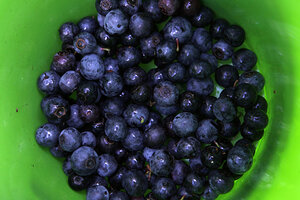 Jaime Henry-White/AP/File
What is the most valuable fruit crop produced in the Peach State?
This is not a trick question, but you may want to pause a second before answering.
Ready? It's the blueberry.
Georgia is famous as a major producer of the peach, the fuzzy succulent orange fruit whose image appears onstate license plates, "welcome to Georgia" billboards and on road signs. When driving in the capital city of Atlanta, you can pass the corner of Peachtree Street and Peachtree Center Avenue, just one block from West Peachtree Street.
There's just one problem: Blueberries are Georgia's most lucrative fruit crop, by far.
In a little-noticed development, the value of blueberry production in Georgia beat the peach crop in 2005 — and the gap has grown even bigger since then, according to U.S. Department of Agriculture surveys.
Blueberries generated an estimated $94 million for Georgia growers in 2012, meaning the blueberry crop was more than three times as valuable as the nearly $30 million peach crop.
"It's surprising around the country how many people don't realize Georgia grows blueberries," said Joe Cornelius, chairman of the Georgia Blueberry Commission and a farmer who grows about 170 acres of the crop. He refuses to gloat about surpassing his fellow peach farmers. "I don't foresee Georgia changing to the blueberry state."
Analysts and growers say a combination of supply-and-demand economics coupled with a good growing environment propelled blueberries from a tiny crop to a profitable niche that dwarfs the famed peach.
---