California wildfire season: 43 percent more fires, so far
California wildfires burn twice the acreage of last year's total. And Santa Ana winds, which fan California wildfires, haven't arrived yet.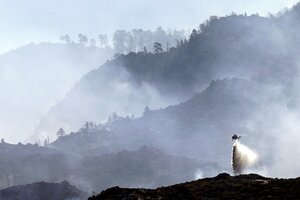 Jae C. Hong/AP
California truly is the Golden State this summer — golden brown — and that has fire officials worried heading into the peak of the wildfire season.
It's still weeks before the fire-fanning Santa Ana winds usually arrive and already it's been a brutal fire season, with nearly twice as many acres (hectares) burned statewide from a year ago, including 19,000 acres (7,690 hectares) scorched this week in a blaze still raging in the mountains 90 miles (145 kilometers) east of Los Angeles.
So far this year, California fire officials have battled 4,300 wildfires, a stark increase from the yearly average of nearly 3,000 they faced from 2008 to 2012, said Daniel Berlant, a spokesman for the California Department of Forestry and Fire Protection.
Until last week, those fires had already burned more than 71,000 acres (28,700 hectares), or about 111 square miles (287 square kilometers), up from 40,000 acres (16,200 hectares), about 63 square miles (163 square kilometers), during the same period last year.
The annual average for acreage charred in the last five years was 113,000 acres (45,730 hectares), roughly 177 square miles (458 square kilometers), he said.
"We have seen a significant increase in our fire activity and much earlier than normal," said Berlant, adding that fire season began in mid-April, about a month ahead of schedule after an especially dry winter. "We're not even yet into the time period where we see the largest number of damaging fires."
---