National Zoo has new baby panda
National Zoo panda Mei Xiang gives birth Friday afternoon. Gender and size of the new National Zoo panda are not yet known.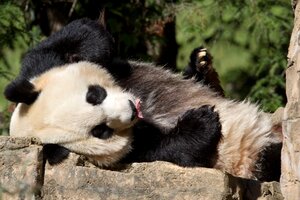 Jacquelyn Martin/AP/File
A giant panda gave birth at Washington's National Zoo on Friday, causing a buzz among fans as they flocked to a panda cam's live feed to hear the cub squeal and watch the mother immediately start caring for it.
The zoo said Mei Xiang gave birth at 5:32 p.m. Friday, two hours after her water broke. Zoo officials said the panda team heard the cub vocalize and that the mother picked it up immediately and began cradling and caring for it.
"WE HAVE A CUB!! Born at 5:32 p.m. this evening," the zoo tweeted.
"I'm glued to the new panda cams and thrilled to hear the squeals, which appear healthy, of our newborn cub," said Dennis Kelly, director of the Smithsonian's National Zoo.
Fans of the 15-year-old panda who had been tracking her suspected pregnancy on a Giant Panda Cam flocked to the live feed.
With the zoo heralding the cub's birth on Twitter, the pandas' excited fans responded in kind. Congratulations poured in under the hashtag "cubwatch," including hopes that this year's cub would survive. "Last year was so heartbreaking," as one person tweeted, while another said, "Good luck, little Butterstick 2 !!!"
Mei Xiang had previously given birth to two cubs. Tai Shan was born in 2005 and a week-old cub died last September.
Panda cubs are especially delicate and vulnerable to infection and other illness. They are about the size of a stick of butter at birth. The first weeks of life are critical for the cubs as mothers have to make sure they stay warm and get enough to eat.
---