Petrobras targeted in US spying programs, report says
Petrobras, Brazil's state-run oil company, was the target of US government spying programs, according to Globo, Brazil's biggest television network. Any spying on Petrobras is sure to raise hackles in Brazil, which has long been suspicious of foreign designs on its abundant natural resources.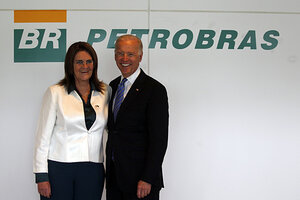 Pilar Olivares/Reuters/File
RIO DE JANEIRO and SAO PAULO, Brazil
The U.S. government tapped into computer networks of companies including Google Inc. and Brazilian state-run oil firm Petroleo Brasileiro SA, according to leaked U.S. documents aired by Globo, Brazil's biggest television network.
A week after it broadcast a report that the U.S. National Security Agency spied on the presidents ofBrazil and Mexico, Globo said the agency had also spied on major companies.
It showed slides from an NSA presentation, dated May 2012, that it said was used to show new agents how to spy on private computer networks.
In addition to Google and Petrobras the presentation suggested the NSA had tapped into systems operated by France's foreign ministry and the Society for Worldwide Interbank Financial Telecommunication, an international bank cooperative known as Swift, through which many international financial transactions take place.
The report did not say when the alleged spying took place, what data might have been gathered or what exactly the agency may have been seeking.
---