Europe's little 'Smart' car to hit U.S. streets
Hugely popular in many European cities, the teeny tiny two-seater has already been reserved by 30,000 American residents.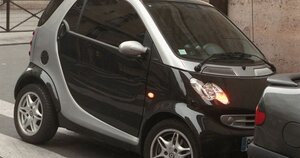 Alfredo Sosa
Behold, with a microscope if necessary, the Smart car. The Mercedes-built European two-seater turns on half a dime, loves to park where even MINIs fear to fit, and is counterintuitively comfortable.
This month, after six years of delays, the panda-cuddly car comes to America.
Europeans already have a love-hate relationship with the feisty little vehicle, designed partly by the Swatch watchmaker Nicolas George Hayek. But Daimler-Chrysler figures this is a perfect moment for the American market. The car combines French savoir-faire with German engineering, is cheap on gas at a time when oil is above $100 a barrel – and will target buyers concerned about emissions and ecology.
Already, 30,000 US residents have plunked $99 down to reserve the first 3-cylinder two-seaters sold in their country.
On the Upper West Side in Manhattan, promoters recently displayed 42 Smarts parked on a block that would fit 21 regular American cars. The US model is 7.5 inches longer than its European cousin, but still four feet shorter than the MINI Cooper, its main competition on the diminutive front. Smarts were also test driven in some Whole Foods store parking lots last year, which might say something about the intended market.
---