Ultracapacitors: the future of electric cars or the 'cold fusion' of autovation?
ZENN Motors says its electric car will cruise for 250 miles on a single five-minute charge. Skeptics cry shenanigans.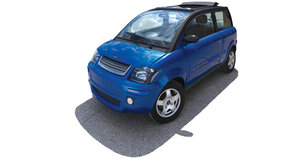 Courtesy of ZENN Motors
Ian Clifford wants to start a global revolution by building a practical, everyday car with no gasoline engine, no batteries, and no emissions.
While big Detroit automakers ponder a future plug-in car that goes 40 miles on a battery charge before its gas engine kicks in, Mr. Clifford's tiny ZENN Motor, a Toronto maker of low-speed electric cars, announced in March that it will build a new highway-speed (80 m.p.h.) model that goes 250 miles on a charge – and can recharge in just five minutes.
Having no batteries, the new "cityZENN" model will use a breakthrough version of a common electrical storage device called an ultracapacitor to store power from a wall socket, the company says. Fuel costs to operate it would be about one-tenth of today's gas-powered vehicle.
If that astounding claim is real (and there are many skeptics), it could revolutionize automotive travel by making all-electric cars competitive with gas-powered vehicles and easing the world's dependence on oil.
"The big problem has always been the battery and its limits," says Clifford, ZENN's founder and CEO in a phone interview. "This new technology is a 180-degree shift that represents the end of fossil fuel as a transportation fuel."
That's because the same ultracapacitor technology could be used across the grid to provide cheap electric storage for wind and solar power, he says. In turn, this process could power millions of ultracapacitor vehicles with no emissions at all. With the cars' fast-charge capability, recharging stations could pop up to help make even longer trips routine.
Ultracapacitors – also called supercapacitors – are more powerful cousins of the basic capacitor. With activated carbon at their core to act as a sponge for electrons, ultracapacitors can absorb power – or send a charge – far faster than batteries. They are also far more durable.
---