Now it's easier to play green
Parents who want nontoxic toys for their kids are finding more choices.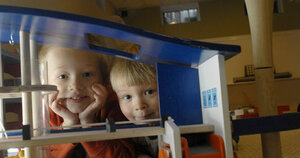 Mark Thomson
Until last year, the most fraught question many parents faced when toy shopping was: "Mommy, can I have it? Pleeeaasse?" But after the recalls of millions of toys for safety issues ranging from lead paint to crafts that turned toxic when swallowed, some consumers began wishing playthings came with a label listing their chemical makeup.
Kathy Sebestyen is one of those parents. When she learned that her 4-year-old had been exposed to lead, the Boston mother was baffled. The Sebestyens own a new home, and the school her son attends didn't have any lead problems. But the next week, the recalls for Thomas the Tank Engine trains that contained lead paint were announced. Although there wasn't a proven connection, she threw out the recalled trains and began looking for playthings that were made from natural, nontoxic materials.
She found some that interested her boys, but describes the options as few and the research process as frustrating. "It's very difficult to find any information on these factories or on how they produce these toys," Ms. Sebestyen says.
Still, there are signs that shopping is going to get easier for such environmentally concerned parents. Twenty states have passed legislation to ban four substances from toys: lead, phthalates, Bisphenol A, and cadmium. Congress is also in the process of strengthening the Consumer Product Safety Act to ban lead and phtalates and to mandate that the presence of toxins be disclosed.
Nor are retailers waiting for the federal government to act: Wal-Mart, Target, and Sears have pledged to eliminate polyvinyl chloride (PVC) from their store-brand children's and baby products, and Toys 'R' Us and Wal-Mart have announced that they will not sell baby products that contain phthalates.
---