Burma's opportunity now: Rebuild for a safer future
Simple remedies abound, experts say. But will the government act?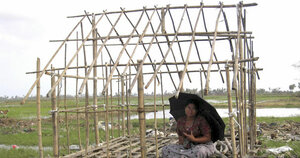 Jessica E. Davis/AP
When tropical cyclone Nargis slammed into southern Burma (Myanmar) on May 3 it left an enormous humanitarian crisis in its wake. But it also has presented the country with an opportunity to rebuild in its hard-hit Irrawaddy delta in ways that increase the region's resilience in the face of future storms.
That's the assessment of a range of specialists who have taken part in recovery efforts in areas as diverse as post-Katrina New Orleans and post-tsunami Thailand and Sri Lanka.
No one underestimates the challenge Myanmar faces – from the sheer number of people affected and the country's poverty to the obdurate behavior of the country's authoritarian military junta, which at press time was still allowing only a trickle of outside aid, and no outside disaster-relief experts, into the country.
"This is a great human tragedy," says Deborah Brosnan, a marine scientist and founder of the Sustainable Ecosystems Institute in Portland, Ore., a kind of "ecologists without borders" that aims to bring scientific expertise to bear on conservation and sustainable-development issues worldwide. With fatalities from the storm topping more than 31,000 to date, the issue, she asks, is whether "these people will have died in vain."
---
Subscribe to Recharge
Get the Monitor stories you care about delivered to your inbox.