Cameroonian joins global quest for clean water
Tantoh Nforba promotes watershed preservation by education and example.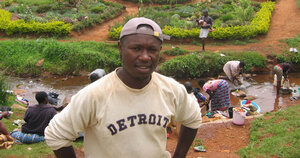 Photos Courtesy of Save your Future Association
Most Americans can fill up a glass with tap water and safely drink it. But there are no faucets where Tantoh Nforba lives and works. He is from the Northwest Province of Cameroon, a rural region of Africa where the World Health Organization estimates that only 44 percent of the population has access to potable water.
The rest of the province's 1.2 million inhabitants either drink from streams and lakes polluted with human and animal feces, contending with potential disease, or walk up to seven miles to collect clean drinking water from sporadically placed water pumps. The pumps are unreliable: Hard to maintain, they frequently fall into disrepair. And while water flows during the rainy season, many go dry later.
Today, Mr. Nforba has joined a global community stretching from the United States to Russia to Africa dedicated to making potable water more available.
Almost one-fifth of the world's population lacks consistent access to clean water. The situation is made worse, says the United Nations Environment Program, by the water-intensive farming practices being used to feed the developing world's exploding population. Nforba's Northwest Province is 90 percent dependent on farming for survival. Its lack of clean drinking water is exacerbated by agricultural deforestation, aquifer depletion, and soil erosion.
---