How safe are nanoparticles?
Boom in nanotechnology points up need to evaluate health risks; latest study suggests asbestoslike effect.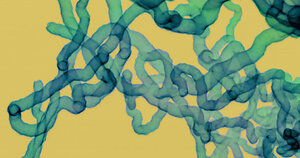 Newscom
Small is beautiful when it leads to new products that do great things, like speed up computers or cleanse the environment. But the nanoscale-sized particles (a nanometer is one-billionth of a meter) behind some of these advances are also raising questions about their safety, questions that are not yet thoroughly understood or researched.
In a study published May 20 in the journal Nature Nanotechnology, researchers found that one form of carbon nanotubes – long, thin multiwalled ones, whose shape bears a resemblance to asbestos fibers – appears to act like asbestos, causing damage to the lungs and potential serious illness. The nanotubes were injected into mice, not breathed in, leaving open the question of whether humans breathing in the nanotubes would be exposed to a health risk.
"If the fiber looks like asbestos, it may act like asbestos," says Kristen Kulinowski, director of the International Council on Nanotechnology at Rice University in Houston, who has seen the paper. "Studies like this point to the need to understand the impacts of nanomaterials on human health and on the environment."
According to one forecast, nanotube sales are expected to reach $1 billion to $2 billion annually within four to seven years. They are expected to be used in electronics, automobiles, drugs, and energy-efficient batteries.
---