Critics slam loss of Brazil's environmental chief
Brazil's hard-line environment minister quit last week in a move lauded by agribusiness interests.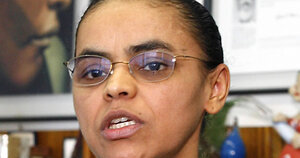 Jamil Bittar/Reuters/File
The reactions of the business community and the green lobby to the resignation of Brazil's environment minister last week illustrated just what she meant to Brazil.
Business leaders, particularly from agricultural states, celebrated Marina Silva's departure and called it a victory for development.
"Her overly ideological decisions have held Brazil back," says Assuero Doca Veronez, a cattle rancher in Ms. Silva's home state of Acre and the Brazilian Confederation of Agriculture and Livestock Farming's environmental spokesman. "Her aim was to stop the agricultural frontier advancing. The country could have been growing faster if she had been more flexible."
Environmentalists, meanwhile, say Silva's resignation exposed as a sham President Luiz Inácio Lula da Silva's supposed attempts to protect the Amazon. Without her, the environment will suffer, green activists say.
"Marina's resignation underlines the carelessness with which Lula's government is handling the environmental agenda and the protection of the Amazon," says Paulo Adario, Greenpeace's Amazon campaign coordinator. "Marina takes all of Lula's environmental credibility with her, credibility which she has brought to his government over the last five years. Without her, King Lula is completely naked."
Tensions are climbing
---