Group sends bamboo homes to China's quake zone
It's not just panda fodder. One Beijing organization hopes to build new homes from the cheap, sturdy plant.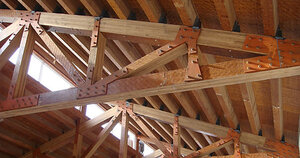 COURTESY OF INBAR
As quake survivors take refuge in tarp tents across Sichuan Province, a Beijing-based nongovernmental organization is pushing a home-grown, quake-resistant housing solution: bamboo.
Though generally dismissed as "poor people's timber" in the developing world, which favors "more modern" materials like steel and concrete, bamboo is more flexible for withstanding tremors and is widely grown in parts of southern China.
So, the organization – the International Network for Bamboo and Rattan (INBAR) – hopes that rebuilding in China's disaster area presents just the chance to revive this inexpensive, environmentally friendly, quake-resistant native material.
"So far, massive construction or reconstruction means concrete structures in China, and bamboo is little known for this [building on a large scale]," says Shayam Paudel, INBAR's director of bamboo housing programs. "In China, bamboo is still not accepted as modern building material."
But Mr. Paudel expects new technology that allows quick construction and makes a bamboo dwelling look modern may persuade the region to give it a try.
Even builders of sophisticated structures see bamboo's potential in rebuilding the quake-stricken regions.
---