Water-rich New England builds ... a desalination plant?
Brockton, Mass., seeks a certain supply to assure growth. Some worry about what such installations portend.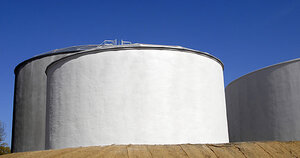 Mark Thomson / The Christian Science Monitor
Far from the arid US Southwest and its longstanding water woes, or even the Southeast and its new water skirmishes – attitudes are shifting in lush New England.
That's right. Despite abundant lakes and good rainfall, weak groundwater resources have crimped economic growth in some areas. As a result, the first big New England desalination plant turning brackish (salt water, fresh water mix) into fresh is expected to go online in Massachusetts this month.
That surprises some people, but not Robert Tannenwald, an economist and director of the New England Public Policy Center at the Federal Reserve Bank of Boston. Two years ago he did a study showing that New England – contrary to public perceptions – is not at all water-rich region, but one that needs to manage its water supplies more carefully and look for new sources.
"There's still a general mind-set [in New England] that water as a resource is not in scarce supply – but it is," Mr. Tannenwald says. "We waste a lot of water. There's a lot of leaky pipes around here. So economics has to kick in and water has to be priced accordingly for the waste to stop."
Initially, the Aquaria desalination plant, hard by the Taunton River a few miles from its mouth on Narragansett Bay, will supply 4 million gallons of fresh water each day to the city of Brockton 16 miles away. Using a reverse-osmosis process, it will filter salt and other impurities from brackish water flowing up the river from the ocean during high tide.
---