Food crisis softens resistance to genetically modified (GM) food
At Rome summit, UN calls for $20 billion a year to feed hungry and fund a new 'green revolution.'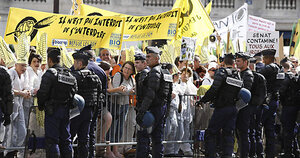 Charles Platiau/Reuters
Opposition to genetically modified (GM) foods, still strongest in Europe, is starting to erode in the face of the global food crisis.
But the pressure for change, so far, is more economic than political.
Indeed, it was the political fighting over biofuels, farm subsidies, and trade policies, that threatened to undermine the efforts of 40 world leaders seeking a solution to soaring food costs at a UN summit in Rome that ended Thursday.
The UN's Food and Agriculture Organization (FAO) asked governments to provide at least $20 billion a year to revive world agriculture research, to help feed nearly 1 billion hungry people, and to spark a new "green revolution." But what advocates describe as a promising solution to hunger – GM foods – did not get much play in
Rome, save its promotion by US Agriculture Secretary Ed Schafer.
Partly this is because genetically modified crops are not regarded as an immediate answer to farming problems in poor regions; partly it is because genetic alteration remains controversial. Europe bans most of the use and growth of crops whose seeds have been modified with genes of other organisms to make them more resilient.
Yet the economics of the food crisis may already be forcing changes in Europe, and in smaller farm nations, experts say. For the first time, Japan and Korea are allowing snack and drink manufacturers to quietly start using GM corn, after prices for non-GM corn doubled last year.
In Europe, growing numbers of farmers and corporations (such as BASF in Germany, which has a genetic potato ready to introduce) are pushing the European Union – including threats of legal action – to ease restrictions on using GM produce.
---