How green is that product?
An increasing number of consumers want 'green' products for their homes. How to determine which ones are and which ones claim to be but aren't?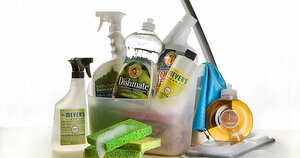 Bill Hogan/Chicago Tribune/MCT
Stroll around a typical home-goods store and you might feel as though you're walking outdoors – everything is turning green. Over the past year, more mainstream companies have jumped on the green bandwagon, unveiling "natural" cleaners, recycled products and packaging, sustainably made furniture, and housewares aimed at a growing market niche: the green consumer.
Wal-Mart, for instance, is stocking shelves with organic cotton towels and Clorox's latest cleaning line, Green Works.
Walk into Crate & Barrel, and you'll probably notice chairs made of sustainable wood, teak dining collections, and a shopping environment with a low-energy lighting system.
Companies are realizing that going green – or at least sprinkling some green into their mix of conventional products – is good business. Indeed, American consumers are expected to double their spending on eco­friendly products and services in the next year to an estimated $500 billion, according to Landor Associates.
"I find myself weighing a green purchase versus a regular purchase, and there were many times in the past when price would have made the decision for me," says Leah Ingram of New Hope, Pa., whose blog, The Lean Green Family, chronicles her family's transition to a greener lifestyle. "Now that I'm more aware of [the environment], I'm willing to spend a little more."
---