An artificial flood does good in the Grand Canyon
Researchers hope controlled high flows from Glen Canyon Dam will help restore natural habitat.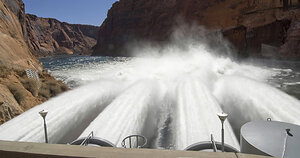 Courtesy of David Walsh/Bureau of Reclamation
RIVER MILE 45, GRAND CANYON, ARIZ.
With quick flicks of his Japanese calligraphy brush, Dave Rubin sends dry sand particles flying into the wind. He's crouched in a four-foot-deep sand trench with a trowel in one hand, brush in the other, and the Colorado River flowing behind him. Dr. Rubin, a US Geological Survey senior scientist, leans back and studies the sand layers, trying to read their story – the tale of this year's three-day high-flow experiment that thundered down the Grand Canyon.
The trench is dug into a bankside sandbar, a highly desirable feature of the Grand Canyon for habitat, archaeological preservation, and recreational camping. Sandbars once peppered this stretch of the river, but the closing of the Glen Canyon Dam in 1963 began trapping millions of cubic yards of sand that had nourished them. In the last 12 years, three high-flow experiments have tried to re-create the floods that used to deliver the sand. The most recent one was in March.
Now scientists have descended on the canyon to study the outcome using a host of technologies, from simple shovels to underwater scans of the riverbed. Their findings, and their resulting suggestions on how to restore the canyon's diminished sandbars, will then be thrown into the caldron of river and canyon management, where 25 stakeholders weigh such things as the interests of electrical power and water against the need to preserve a natural wonder and endangered species. Close to $80 million has been spent in the last decade on sedimentology and hydrology research. Environmentalists say the need for restoration is losing out to the need for electricity and water.
---