Green architecture's new goal: stylish sustainability
Ecologically friendly designs are shedding an ugly past for a sleeker, more integrated future.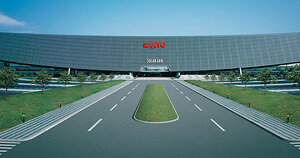 Courtesy of Sanyo Energy Corp.
If you're one of many who identify "green" buildings as an ecological necessity but as an aesthetic blight, you're hardly alone. Architect Rebecca Henn, a juror in this year's American Institute of Architecture competition for top environmental designs, noted, "The big box store that could have been an exemplar of sustainability was, frankly, really ugly.... If we don't hold beauty and sustainability as equal cultural commitments, then we might as well hand over our licenses and call ourselves aesthetic consultants."
Architect James Wines, author of "Green Architecture," also cuts to the chase: "[W]ith-out art, the whole idea of sustainability fails. People will never want to keep an aesthetically inferior building around, no matter how well stocked it is with cutting-edge thermal glass, photovoltaic cells, and zero-emissions carpeting."
Whatever their aesthetics, the number of sustainable buildings has grown exponentially, according to the US Green Building Council, an educational clearinghouse and certification agency for such projects. The United States market in green-building products and services has soared from more than $7 billion in 2005 to more than $12 billion today, the council reports. So, ready or not, expect to see sustainable buildings wherever you reside.
And that raises the question: How can architecture most effectively offer us the beauty we crave in our everyday lives – while being protective of the environment? Global warming is catalyzed by greenhouse gases, nearly half of which are generated by creating and maintaining architecture. Given that reality, it might seem downright superficial to care about whether our buildings can be beautiful.
---