In Britain, plan for carbon-neutral 'ecotowns' draws rural ire
The innovative proposal for ultramodern communities with solar power and subterranean recycling chutes is designed to address an acute housing shortage.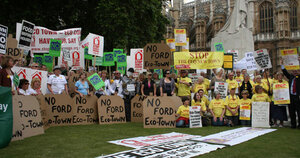 Mark Rice-Oxley
You're the prime minister of a small, rich nation with a growing population, pressing space constraints, a chronic housing shortage, and a perennial need to be green. What do you do?
Gordon Brown thinks he has the answer. In one of his boldest policies since he assumed power last year, the British premier is planning to build a cluster of completely new ultramodern "ecotowns" on sites dotted around the English countryside.
Windmills and solar power, biomass heating facilities, car-free streets, and subterranean recycling chutes will result in net carbon dioxide emissions of zero or less.
But the innovative plan is pitting urbanites' vision of green utopia against the ire of rural England, whose residents are loath to let their pristine environs be despoiled.
"This is completely the wrong site," says Pete Seaward of Weston, a village in Oxfordshire shortlisted as an ecotown. He holds up a scenic picture of a local lake. "If they're saying that it is 'eco' to build on and fill in a lake like that, they are dreaming."
Ron Field, chairman of the parish council at Ford, another site on the eco-village shortlist, adds that there is huge local concern that this is just another ruse to allow developers to make money.
"We don't want it because it's plunked in the middle of a small hamlet in between two coastal towns which they spent millions and millions of pounds trying to regenerate," he says.
"They're building it on 600 acres of green field land which is used for growing food crops to feed the people that live in our area, and it's all done as far as we can see for money."
---