Diet for a more-crowded planet: plants
Rising incomes raise appetite for meat. But how many can 'eat like an American'?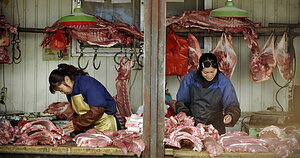 Peter Parks/AFP/Getty Images/Newscom
In the first quarter of 2008, grain prices climbed to a 30-year high. On average, food prices are 54 percent higher than in 2007. Grains have gone up 92 percent. Hungry mobs, hard-pressed to afford staples, rioted in Haiti, Mexico, and Bangladesh.
Experts point to a "perfect storm" of speculation, hoarding, drought in Australia, and diversion of grain to biofuels as culprits in the global food crisis.
But for some, the skyrocketing grain prices fulfill a longstanding prediction: A growing world population has more buying power. The newly affluent eat more meat. A rising share of the world's agricultural output goes to animals. While grain supplies are more than adequate to feed everyone now, say experts, the current price spike shows that even an adequate supply doesn't preclude hunger for the world's poor. And in the future, a day may come when there isn't enough grain for both humans and livestock – at least not at the US consumption rate. Add to this the environmental impacts of modern industrial-scale meat production, and many wonder: With a predicted world population of 9.5 billion by midcentury, are we all destined to be vegetarians?
Perhaps not entirely, say experts, but technological breakthroughs like lab-grown flesh notwithstanding, we'll likely eat much less meat. And perhaps people in sub-Saharan Africa will eat a little more.
---