EarthTalk: The lowdown on plug-in hybrids; ecofriendly roofs
How soon can I buy a plug-in hybrid? And what are some 'green' choices for roofing?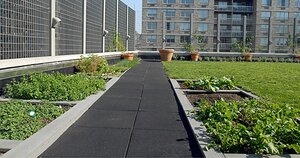 Richard B. Levine/NEWSCOM
Q: Should we expect to see "plug-in" hybrid cars anytime soon? I've been hearing they are on the horizon but I wonder if that means in one year or 10.
– Bill A., Stratford, Conn.
A: Gasoline-electric hybrids now, like Toyota's Prius, don't need to plug in – you just fill their tanks with gas and the battery is charged by the internal combustion engine and by energy recaptured when braking. The battery runs the electric motor when idling, backing up, crawling in gridlock, maintaining speed while cruising, and for extra uphill power. The electric motor is a back-up; the hybrid relies mainly on the gas engine.
Plug-in hybrids let owners plug their cars into a standard electrical outlet to recharge. The vehicles will go 40 or 50 miles on a charge, ideal for commuters who drive short distances to work and back. Those drivers may be able to rely solely on electric power. The gasoline engine then becomes the supplemental one for when the car needs to go farther than the electric motor can take it.
According to researchers at the University of Cali­for­­nia, Davis, the electricity cost of powering a plug-in hybrid is about one-quarter the cost of the gas needed to run a like-sized, gas-only vehicle.
Toyota, by far the world's largest producer of hybrid vehicles, says it expects to have a commercially viable plug-in hybrid as early as 2010. It is testing prototype versions of plug-in hybrids at two California universities.
---