High gas prices boost bus travel
After decades of decline, bus travel is on the rise again. But is it right for you?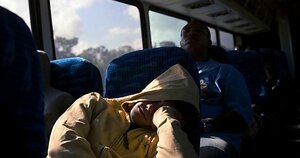 NEWSCOM/FILE
The old silver dog is back, and it may have learned a few new tricks. After 40 years of steady decline, the nation's bus network is reviving.
Persistent, sobering economic news is a major factor in the regeneration, as oil prices hover around $130 a barrel. But transportation expert Joseph Schwieterman identifies another aspect: What's good for the green in your wallet also promotes green living.
He says the bus industry is being buoyed by high gas prices and that "a new brand of bus operator is emerging who point to their services as being the environmentally friendly travel choice…. People are starting to feel good about stepping aboard a bus. Many see it as a socially responsible way to go."
The tipping point came in early 2006. After decades of steady decline, the nation's intercity bus systems have grown by 13 percent in the last two years, according to a study by Mr. Schwieterman, who's at DePaul University's School of Public Service in Chicago.
Between 1960 and 1980, the study found, intercity bus service fell by one-third. More than half the remaining service was gone by 2006. But then prices at the pump, crowded highways, frustration with congested airports, and high air fares prompted travelers to rediscover mass transit. By late 2007, intercity bus service was experiencing "a significant rebirth," the study says.
---