EarthTalk: Do city 'congestion taxes' really help the environment?
Singapore, Stockholm, and London tinker with variable toll pricing. New York wants to join the club. But does it work?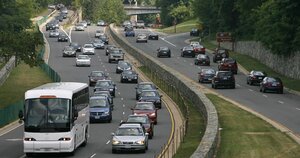 Richard Drew/AP/FILE
Q: How does congestion toll pricing, used in some cities around the world, cut down on vehicle traffic and promote green-friendly public transit?
– Bill Higley, via e-mail
A: Despite increasing green awareness and steadily rising gasoline prices, Americans and other denizens of the developed world – not to mention millions of new Chinese and Indian drivers hitting the road every week – are loath to give up the freedom and privacy of their personal automobiles. But snarled traffic, longer commute times, and rising pollution levels have given city transportation planners new ammunition in their efforts to encourage the use of clean, energy-efficient public transit. One of the newest tools in their arsenal is so-called congestion pricing (also called variable toll pricing), whereby cars and trucks are hit with higher tolls if they access central urban areas at traditionally congested times.
In 1975, Singapore was the world's first major city to employ congestion pricing when it began charging drivers $3 to bring their vehicles into the city's central business district. The system has since expanded citywide, with toll rates at several locations changing over the course of a day. Funds generated by the program allowed Singapore to expand and improve public transit and keep traffic at an optimal flow. Some of the tangible benefits of the program, according to the econonprofit Environmental Defense Fund (EDF), include a 45 percent traffic reduction, a 10 miles-per-hour increase in average driving speed, 25 percent fewer accidents, 176,000 fewer pounds of carbon dioxide (CO2) emitted, and a 20 percent increase in public transit usage.
---