EarthTalk: How to save the Earth while on vacation
Community-based tourism helps preserve local environments by supporting residents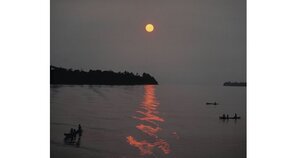 NEWSCOM
Q: What is "community-based tourism," and how does it purport to safeguard pristine places?
– Erin O'Neill, Tukwila, Wash.
A: Community-based tourism refers to situations in which local people – usually those who are poor or economically marginalized in very rural parts of the world – open up their homes and communities to visitors seeking sustainably achieved cultural, educational, or recreational travel experiences.
---
Subscribe to Recharge
Get the Monitor stories you care about delivered to your inbox.