States make way for low speed vehicles
More and more permit them to travel on state roads where speed limits are low.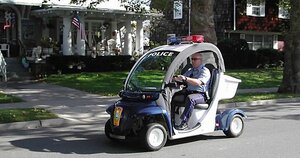 Courtesy of Borough of Belmar, N.J.
Ken Pringle could be driving his Jaguar. But the senior elected official in Belmar, N.J., mostly chooses to silently cruise town roads at 25 miles per hour – top speed for his all-electric "Mayor-mobile."
That's what kids in his tiny, oceanside borough dubbed Mayor Pringle's bulbous "neighborhood ­electric vehicle" or NEV after he bought it on eBay for $5,000 in 2004.
Way back then, gas was just $2 a gallon and only a couple of dozen states allowed NEVs on state roads where the speed limit was under 35 miles per hour. But now, with gas hovering around $4 a gallon, more states are moving to allow them and Pringle's NEV predilection looks prophetic.
That's right: In America, land of the muscle car, the hot new way to strut your stuff on the road is gliding in electric near-silence at 25 miles per hour. From Belmar to Lincoln, Calif., the big car buzz is all about down-shifting to the slow lane.
At least 40 states have now passed laws to permit NEVs to operate on many state roads with more working on new regulations. Meanwhile, some 40,000 NEVs are operating nationwide, says the Electric-Drive Transportation Association. Kentucky and Massachusetts are considering regulations to permit low-speed vehicles (LSVs) on state roads. LSV is a federal designation that includes NEVs, and also some gas-powered vehicles.
---