One Cambodian turns trash to cash
Heng Yon Korra has a plan to reduce trash and fight poverty in Phnom Penh. So far, it's working.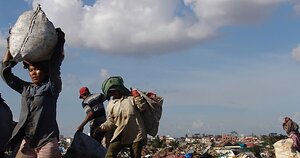 David Montero
Heng Yon Kora has had a long, intimate relationship with trash: As a teenager just after the fall of the Khmer Rouge's brutal regime – a period when Cambodia was racked by famine – he survived on it.
He quickly learned that, in a nation trying to rebuild after years of war and isolation, discarded metals and plastics were precious commodities. Selling recycled waste, Mr. Kora soon had enough money to pay for schoolbooks.
Although hard work took him away from the garbage heaps – to jobs at the World Health Organization and the United Nations – he never forgot the lessons he learned there.
His profession in human rights and development often brought him face to face with garbage pickers. Thousands of them, including about 1,000 children in Cambodia's capital, Phnom Penh, pick garbage for a living, selling scrap to earn enough to eat. Many face discrimination and grim health prospects.
There was the growing amount of garbage, too. As Kora's nation rises, enjoying an economic boom, its garbage woes have piled high.
So in 1997, Kora decided to address the poverty and waste by founding the Community Sanitation and Recycling Organization (CSARO), a nongovernmental organization that turns trash into an economic asset for the poor, borrowing an idea from NGOs in neighboring countries.
---