Botanist's aim: revive New York ecosystems
Paul Mankiewicz wants to harness wastewater to make things grow.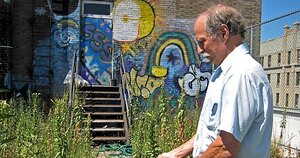 Moises Velasquez-Manoff
Paul Mankiewicz, a biologist, botanist, and erstwhile philosopher, has a vision for New York City. He calls it "zero discharge": Not a drop of water should escape from the city without first making something grow.
Rainwater should be caught and used to cultivate greenery. "Gray water" from showers, baths, and sinks should irrigate rooftop gardens. Trees dotting streets are good, but a belt of grasses and shrubs lining roadways would better catch and utilize runoff. Restored wetlands around the city would filter any water that escapes. All water entering the city should pass through a natural system on its way out.
"What you have to do is bring the land to life," he says. "Our footprint is not an abode for life. It's the opposite; it's sterile."
Mr. Mankiewicz, executive director of the Gaia Institute in New York and treasurer of the city's Soil and Water Conservation District, has designed ecosystems for 30 years. He had a hand in the city's very first "green streets," patches of greenery sprouting up alongside roadways in recent years, and the Bronx's first green roof.
Now he's working with the city on a pilot project to restore oysters and mussels, keystone species, to city waterways. His guiding principle: Living systems can achieve naturally what humans endeavor to do artificially. Dirt can hold water and sequester heavy metals. Soil microbes and plant roots – "the symbiosis that runs the terrestrial biosphere," he says – can digest the carbon-based molecules that collect in the average city gutter.
"You have to rethink the permeable and impermeable," he says.
---