Cleaning up an engine's act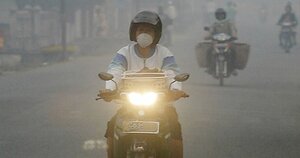 Crack Palinggi/NEWSCOM/FILE
The humble two-stroke gasoline engine has done yeoman work for well over a century. The noisy beasts, invented by Sir Dougald Clerk in 1876, are reliable, easy to maintain, and powerful for their size. But they have a dirty secret.
Traditionally they belch out a cocktail of hazardous emissions in a haze of blue smoke, powering chain saws, weed whackers, snowmobiles, scooters, outboard motors, and the like.
Earlier this month, the US Environmental Protection Agency (EPA) announced long-awaited tough new emissions rules on small engines (25 horsepower or less), many of which still use two-stroke engines, as opposed to cleaner four-stroke ones.
When fully implemented in the next few years, the new standards will reduce hydrocarbon and nitrogen oxide emissions by 35 percent, the EPA says. The agency estimates that by 2030 these reductions will result in significant health benefits, redu­cing hundreds of premature deaths and hundreds of thousands of workdays and schooldays lost because of pollution-related illnesses. That would translate into a cost savings of between $1.6 billion and $4.4 billion, the EPA says.
But even as the US takes action, a bigger battle against dirty two-stroke engines awaits in Asia, where the engines power most scooters and motorcycles, many of which are used as unlicensed taxis.
"One of these dirty three-wheel taxis in India or the Philippines produces the pollution of about 50 modern automobiles," says Bryan Willson, a professor of mechanical engineering at Colorado State University in Fort Collins. "And you've got 50 to 100 million of these in Asia, so you're looking at over 2.5 billion car-equivalents of pollution. So that's a huge environmental impact."
---