Heat up that iron: a guide to ecofriendly clothing care
Because 60 percent of the energy use on clothing is tied to its care, how you clean your clothes matters more to the environment than what they're made of.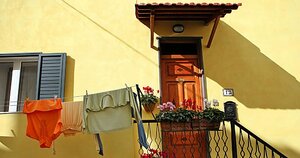 Melanie Stetson Freeman/Staff
Even if a person's closet doesn't contain a single item made of organic or recycled fabric, she can still help the environment – without heading to the store.
That's because "more energy goes into caring for and cleaning a garment than [making] it," says Todd Copeland of Patagonia, which specializes in ecofriendly outdoor clothing.
In fact, about 60 percent of the energy use associated with a piece of clothing comes from cleaning it, according to a 2006 University of Cambridge Institute for Manufacturing study.
Greener options can be as simple as switching to an environmentally friendly detergent, washing in cold water (which can save you $65 a year and cut your washer's energy use by 75 percent), and skipping the fabric-softener sheets. Spending extra time on the laundry means greater energy savings and, often, cost savings as well.
Air-drying is the cheapest and most environmentally friendly way to dry clothes. It's not effort-free, and clotheslines may not be an option if you live in an apartment or a neighborhood where they're against regulations. But there are ways to work around that.
Kristi Wiedemann of GreenerChoices.org, for example, uses a drying rack for her clothes.
For her part, Rachel Sarnoff of EcoStiletto – an online magazine about sustainable fashion, beauty, lifestyle, and parenting – hand washes her garments that are labeled dry clean-only. (She says she did ruin a rayon garment, but so far, nothing made of natural fibers.)
However, the Los Angeles mother of three isn't up for long sessions with her iron, so she says she buys only things that will look good coming off the drying rack.
---