Why Canada's Green Party is (finally) a prime-time draw
Elizabeth May, the Green candidate, will make history by appearing in a nationally televised debate on Thursday night.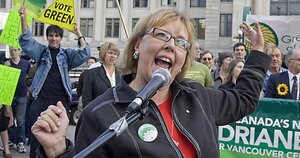 Andy Clark/Reuters
One way or another, Canada's Green Party leader Elizabeth May will make history this week.
The mother, lawyer, environmental activist, and native of Connecticut will be the first Green Party member to participate in national televised debates on equal footing with Canada's mainstream party leaders.
The debates – in French on Wednesday and in English on Thursday night – are "make or break" events for a party long relegated to the fringes of Canadian politics. Despite Green Party success in Europe, Canadians have yet to elect a single Green member to Parliament.
Voter concern over high oil prices and climate change have thrust the environment into the center of Canadian politics. But political analysts attribute the party's rise in the polls to Ms. May's scrappy, off-the-cuff campaign style. She has a giftfor rhetorical thunder that seems to resonate with voters.
"She's got lots of natural charisma," says Karen Bird, who teaches Canadian politics at Hamilton's McMaster University. "She seems to be a person of integrity who is down to earth. She's not obsequious. She tells you what she really thinks and where she stands and I think a lot of people respond to that."
---
Subscribe to Recharge
Get the Monitor stories you care about delivered to your inbox.